Welcome To Yashodhan Travels Pvt. Ltd.
---
हिंडावं..फिरावं..मस्त मजेत जग पहावं…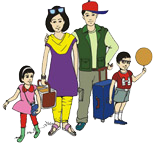 Step into the world of splendid colours, wide-open spaces and exotic cultural treasures and explore various shades of India. Yashodhan Travels invites you to a vacation in India. Prepare to be fascinated when you see magnificent monuments, heritage temples and the vibrant celebrations of Indian. Be mesmerized by the sight of the ethereal Tajmahal in Agra, India. Enjoy an Indian Holiday and your Travel to India full of Heritage, Wildlife, Fairs and Festivals, Tribal, Adventure, festivity and color.
We are equipped with the team of dedicated professionals and language speaking guides are supported by an excellent infrastructure and committed to offering a personalise service to make your stay a memorable and happy experience. With our years of experience, our greatest satisfaction comes in servicing our large number of satisfied clients who have experienced the joys and inspirations of travel.